This is a parody of Durarara!'s ED [Trust Me] with characters from [Ghost Trick: Phantom Detective]. Now on to gratuitous self praise for the game (Y)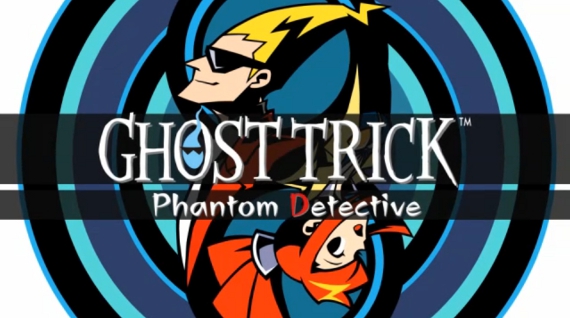 It's one of the more awesome NDS games that I've played. The lead developer was Takumi Shu, the guy who brought you the Phoenix Wright series.
In this game, you control Sissel, who is a spirit. Sissel is a murder victim and wakes up to find that he has lost all his memories. He then sees a young detective named Lynne who is assassinated. Sissel then talks to a spirit named Ray and learns Ghost Tricks; the primary Ghost Trick give Sissel the powers to possess inanimate objects while the secondary gives him the ability to travel four minutes back in time before a person's death to change his/her fate. As you can already predict, Sissel saves Lynne.
Sissel can switch between 2 worlds, the Land of the Living and the Ghost World. In the Land of the Living, time runs normally but in the Ghost World, time comes to a complete halt.
In Ghost mode, Sissel can possess and move between inanimate objects. However Sissel can only travel within a certain radius from an object; meaning you must move through multiple objects to reach things that are farther away. When in possession of an object, Sissel can move them to invoke certain actions. For example, moving a box and making it fall will make a character afraid and change where he/she is standing. This allows Sissel to access previously inaccessible locations. Sissel can also possess phones to listen eavesdrop on calls or travel through the communication lines to other places.
The interesting part is when you interact with a dead body. You get to travel four minutes back in time to change the fate of the person. Later in the game, you get to control Missile, a ghost dog! Missile has a larger travelling radius than Sissel and his secondary Ghost Trick is that Missile can swap the places of two objects around if they have the same shape.
Want to know more? Either play the game or look at video walkthoughs :D (I highly suggest playing the game)